Registration Is Closed!
Registration opened August 6th, 2017, at 9 AM.  And closed October 6th.
Online payment is now active!
Checks can be made out to Wild Maine Witches, and mailed to:
Wild Maine Witches
PO Box 13
Freedom, ME 04941.
If you're not able to use the online payment system or send a check, you please email us!  We'll figure something out 🙂
If you want to stay up to date on when that will happen, please join our mailing list at the bottom of this page: https://wildmainewitchcamp.org/contact/
If you run into any issues with registration please let us know, the best way to reach us is by email at info@wildmainewitchcamp.org
Our site
is a beautiful summer camp on the Gulf of Maine. There are fields, woods, and beaches.
Accommodations
will be tent camping or unheated cabins, with some heated cabins available for those who need them. Temperatures will likely be between 32 and 66 degrees Fahrenheit, and there may be some cold rain. If you are comfortable camping in those conditions, get excited! If you would like to become comfortable camping in those conditions, this is a great opportunity. We will provide lots of advice.
Pricing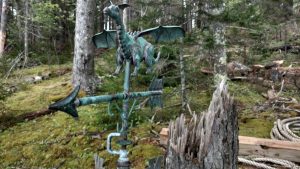 Pricing for the Wild Maine Witchcamp will be a pay what you can model. All are welcome! Our current estimated break-even point is $450 per camper. For each camper who pays less than that, we will need to raise funds through another camper paying more or through other fundraising. For context, the average income in Maine is $27,655 per person in the household. If anyone has data on the average income of witchcampers, please let us know!
Since we are a new camp, with no seed money, we will need to raise $450 average per camper in order for camp to run.
If we were using a more standard pricing model, we would charge $600 for the week, and provide scholarships for those who could not afford it. Instead, we want campers to consider what they can afford for an event that will support their spiritual wellbeing, plus a bit extra to help someone else, if they can.
To hold your spot, you'll need to send us half of what you plan to pay or $25, whichever is greater, and some abundance magic. The balance will be due September 15th. Checks should be made out to Wild Maine Witches, and sent to PO Box 13, Freedom, ME 04941.
If folks need a different payment plan or have questions about our financial model or camp finances please get in touch with us, we would love to talk to you and here your questions and feedback.
At the end of the registration form there is also a link to an anonymous financial survey, so that next year's sliding scale can be more informed.